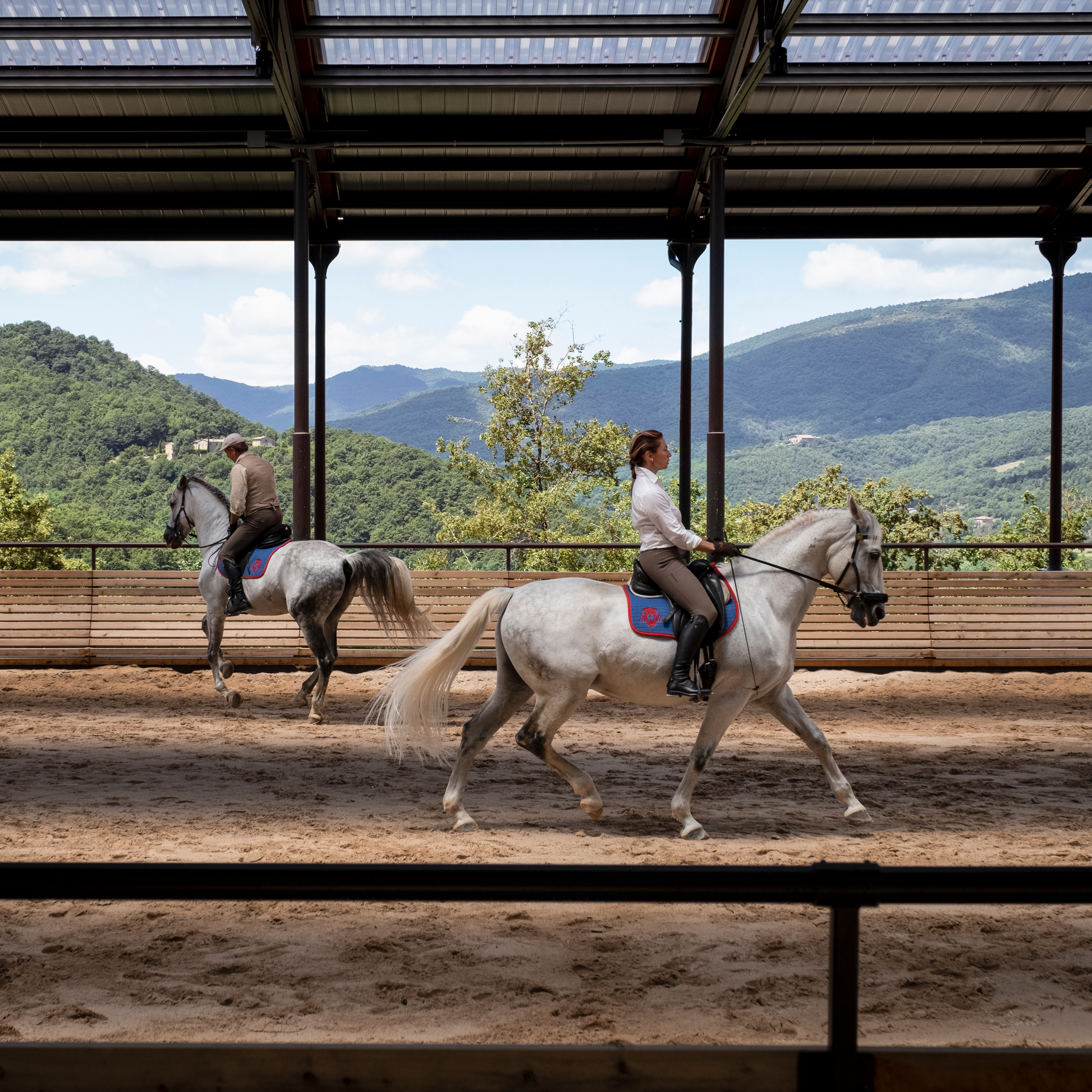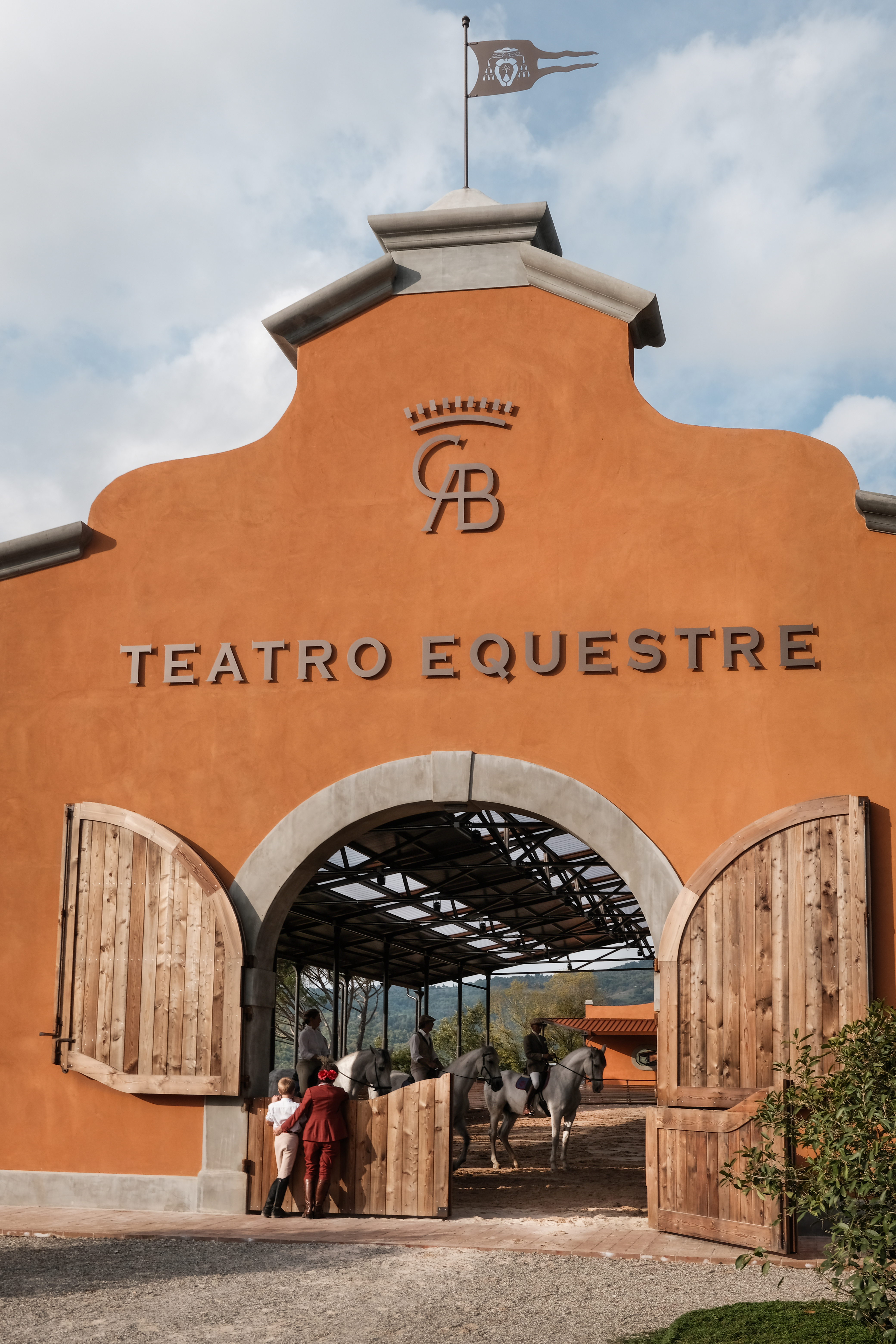 scroll
You are never too old or too young to learn to ride and to experience the bond between a horse and rider. Be warned, it is a strong and trusting friendship that could become an intense passion. At Reschio, the stables have horses of all sizes with multi-lingual instructors teaching novices basic equestrian skills to nurturing those who need the courage to return to the saddle, encouraging the more experienced to new levels and, of course, those who would like to learn dressage. All riders and horses benefit from the same calm, gentle approach that is the philosophy of Reschio's founder Count Antonio Bolza and the director of Reschio Stables Antonello Radicchi. Learning to ride in Umbria is one activity where a new target is achieved daily, not to mention a new sight explored. This is a riding holiday with a difference.
Riding out on the Reschio Estate is a privilege akin to an African safari. Wildlife recognise the horse and see the rider as an extension of the animal. They calmly continue snuffling, grazing or wending their way. With deer, wild boar, porcupine, hare, foxes and a myriad of different birds, both native and migratory, freely roaming within the 1,500 hectares of the Estate, there will always be a magical encounter. A hack across the flower meadows, up into the oak and chestnut forests around hidden lakes and returning along paths lined with swaying cypresses is both magical and life affirming.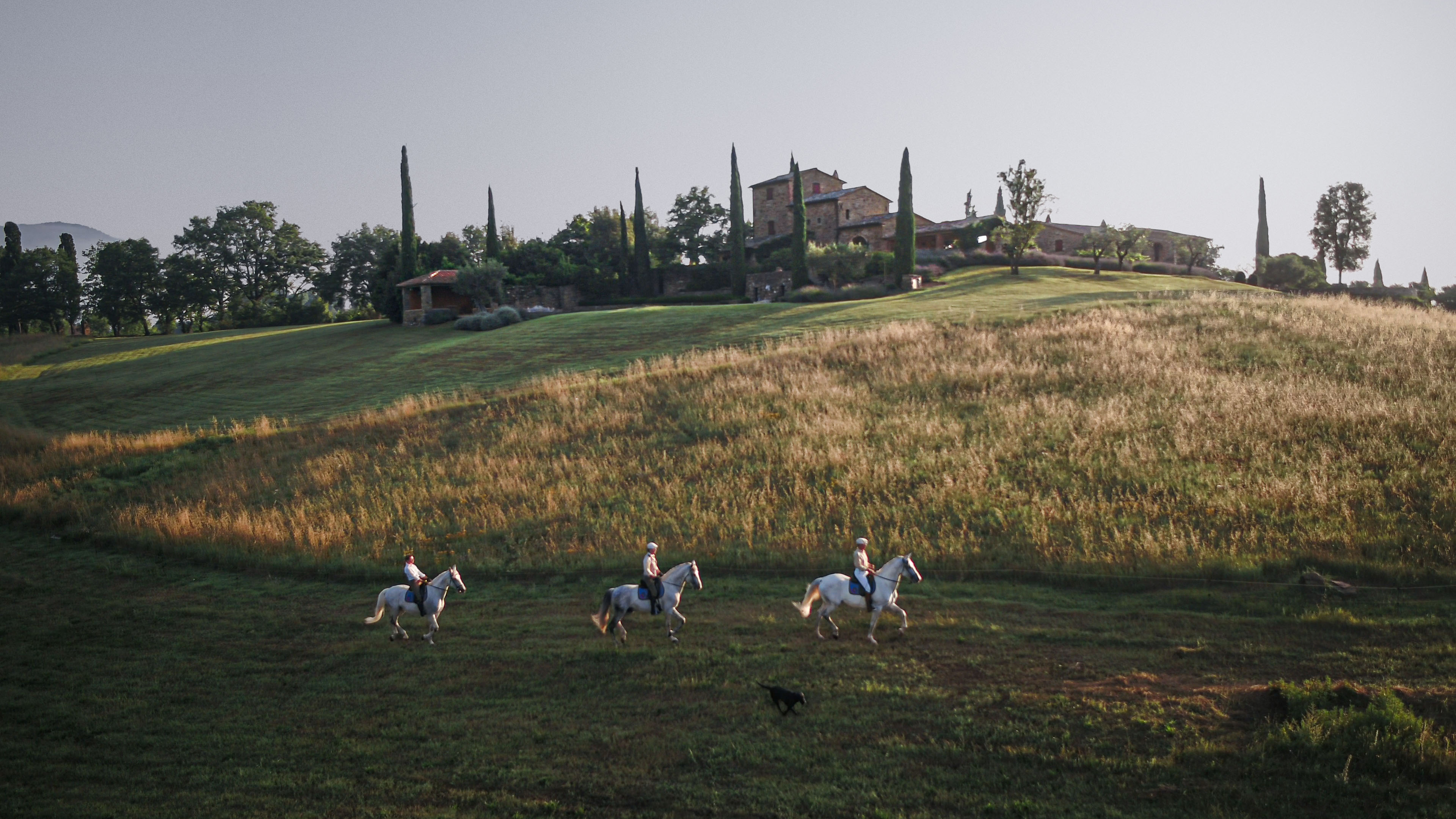 The magnificent stables are the brainchild of Reschio's founder, Count Antonio Bolza, who was inspired as a boy by the famous Lipizzaner horses of Vienna. A stud was always part of his dream for the Estate and together with Antonello Radicchi, they travelled through Spain in search of the perfect stallion. When they reached the world-renowned Yeguada Candau, just outside Seville, it was the perfect eureka moment as Uranio VI was led out. His progeny now numbers forty with names such as Il Magnifico, Aurora and Serenissimo demonstrating the utter joy when those early foals were born at Reschio. Today there are three fillies currently being prepared to take the saddle, all the young stock is trained gently by Antonello, using only a head collar and the spoken voice. The loving care that is devoted to these magical animals cannot be underestimated.
If you need inspiration to take to the saddle, Conte Antonio only took up riding when he was 57, he cuts a dashing figure on his white stallion. He is in the Teatro Equestre daily, performing dressage together with Antonello, putting the powerful horses through delicate and incredible manoeuvres. Those who take riding dressage holidays are practicing a millennia old equestrian discipline developed by the Greeks, to ensure their horses, trained for war, were well practised in precise movements and responding to their riders' commands.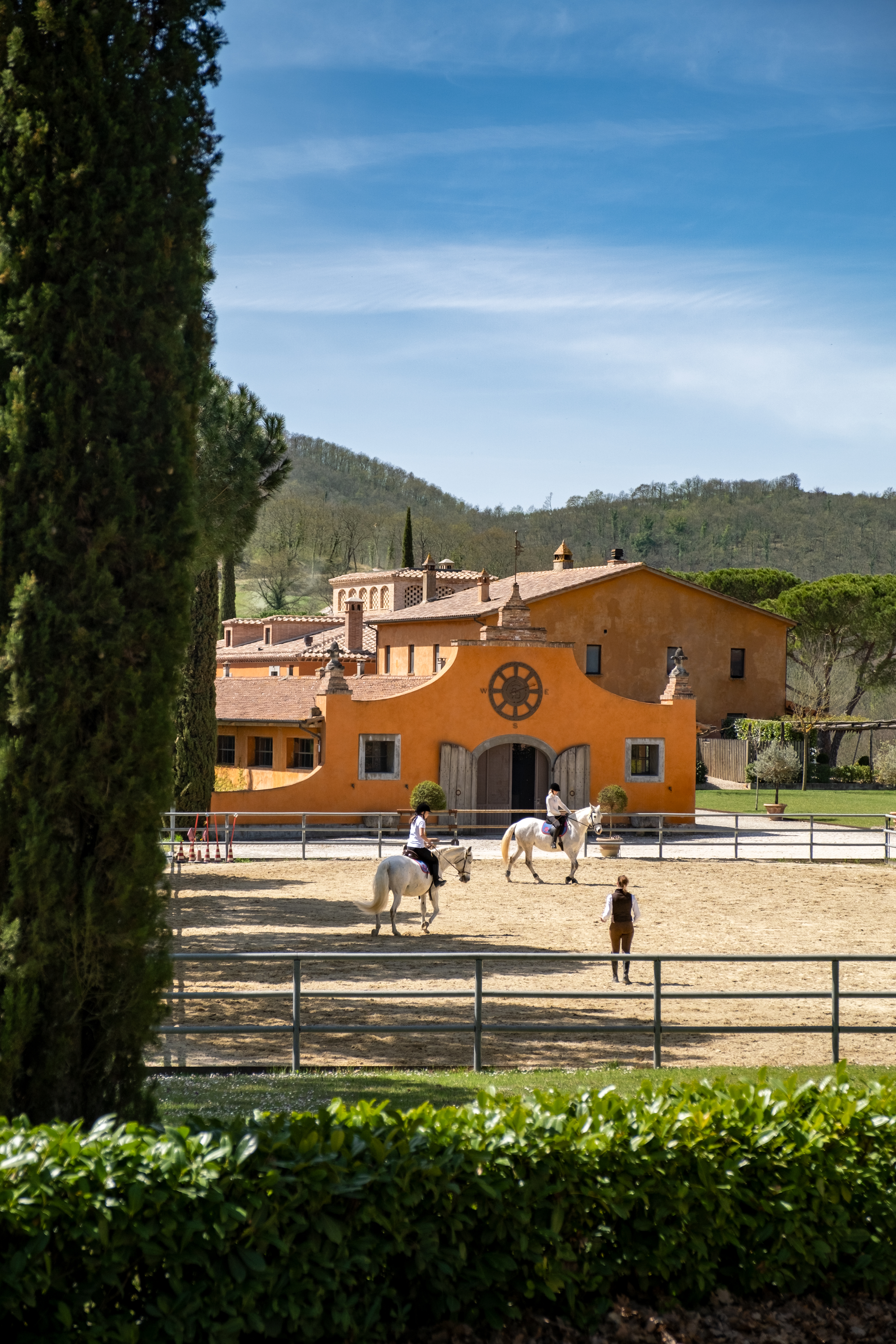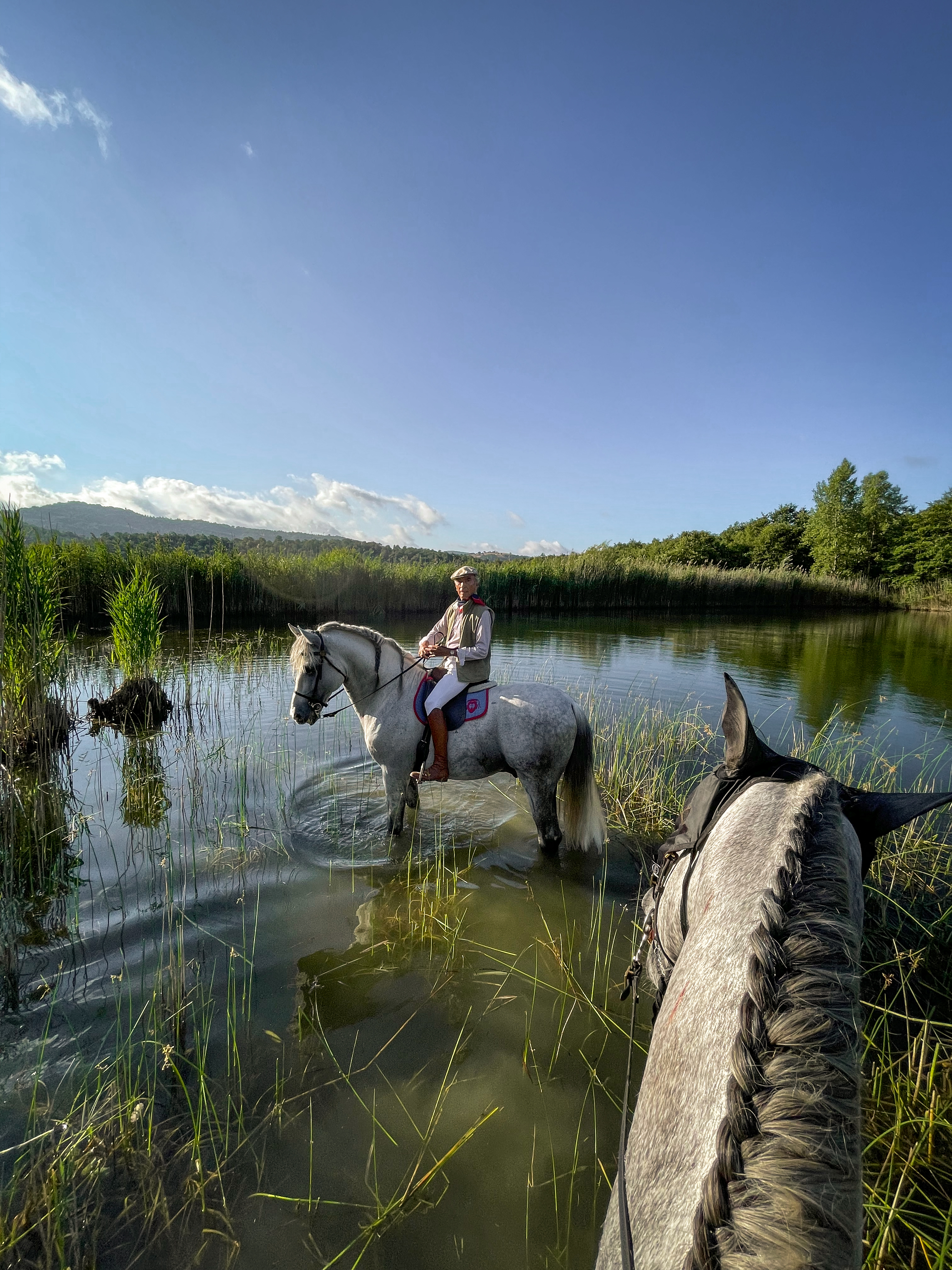 scroll
It is imperative that those new to dressage have experienced and qualified instructors and well-schooled horses who allow riders of all levels to gain a deep understanding and feel for the movements and timing of this demanding art. Spanish stallions are particularly well suited for movements like the piaff, the pirouette and the passage. Dressage has tremendous aesthetic appeal and its essence is achieving close harmony with an equine partner. Dressage training will improve all equestrian skills. Antonello Radicchi, is a true master of his craft, having devised a unique approach to horse training. His deep understanding of equine behaviour and psychology uses a gently coaxing method – never using force – to carry out extraordinary manoeuvres. It is pure joy to watching Antonello and his wife Francesca during one of their regular dressage performances, where the horses seem to perform balletic movements.
Galloping free in the rolling meadows of Reschio, their phenomenal stables were designed and built by Architect Conte Benedikt Bolza, including the Teatro Equestro. With panoramic views of the Niccone Valley, the luxurious scuderie and manège reflect the high esteem that these fabulous horses are held.
Come and learn to "talk horse" with Antonello, Francesca & their team who have been teaching novice riders the art of communication, imparting practical skills and for some, dressage. Maybe you dream of experiencing the Reschio's eclectic equestrian lifestyle or adding an extra goal to your polo creds. Whatever your motivation to mount up, horseplay takes on new meaning at Reschio.