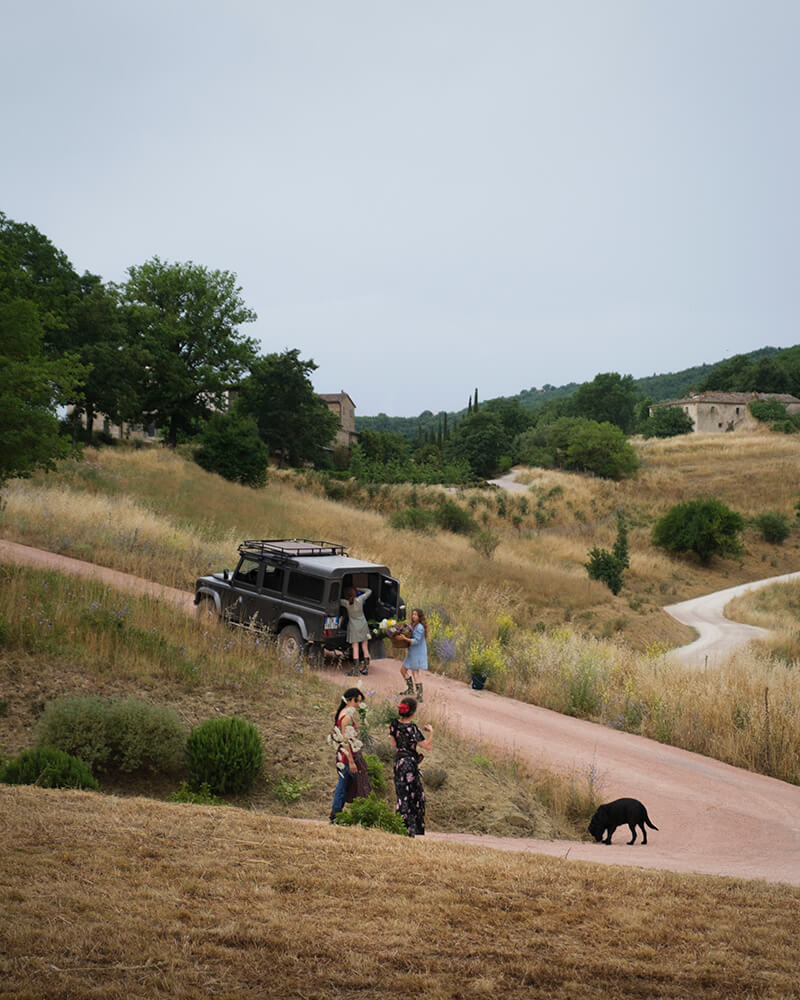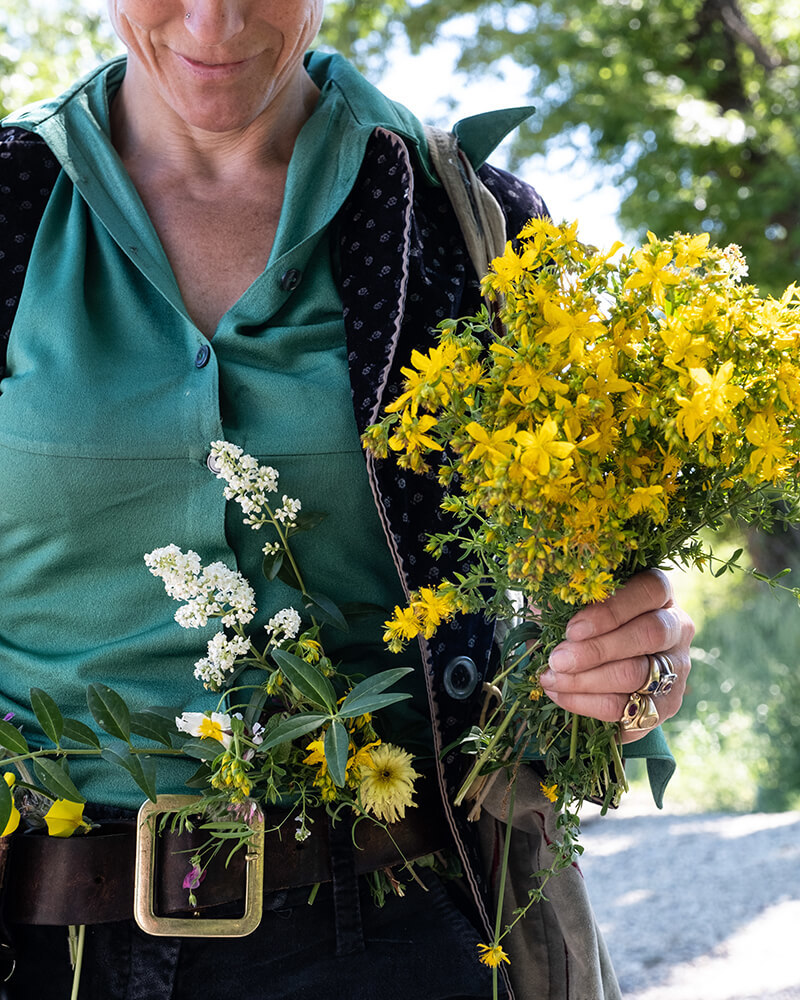 scroll
There is a touch of alchemy at plunging bright yellow meadow flowers into extra virgin oil and watching as the summer sunshine gradually changes the liquid from golden to vibrant red over a period of days. Then, like magic, it metamorphoses into Olio all'Iperico, a powerful healing unguent, used over centuries. These small flowers are just a fraction of the variety harvested at Reschio.
Foraging for food is an ancient practice. Those that lived in the Reschio hills understood the healing and medicinal plants, while recognising others that were nutritious or downright dangerous to humans or animals. There is something very special sitting down to a tasty early summer salad, pretty as a picture, exclusively picked from the wild.
The Bolza family, custodians of the Reschio Estate since 1994, instinctively understand that nature is, and must remain, the very foundation of everything done in this pocket of Umbria. The environment and landscape have been the inspiration for every aspect of the Estate that has organically evolved to include the transformation of abandoned farmhouses to stunning showcase houses, some available for rent, a stable of forty Spanish horses and now, the dazzling Hotel Castello di Reschio.
Like any host, the family want their houseguests to experience and know the Estate as they do and guests are encouraged to slow down, savour the beauty and indulge in country life, trying their hand at foraging.
The Estate's hilly terrain had historically been farmed by hand and thus, never been tainted by artificial chemicals then it was not used for over sixty years. Nature has rewarded this abandon by providing a profusion and abundance of plants.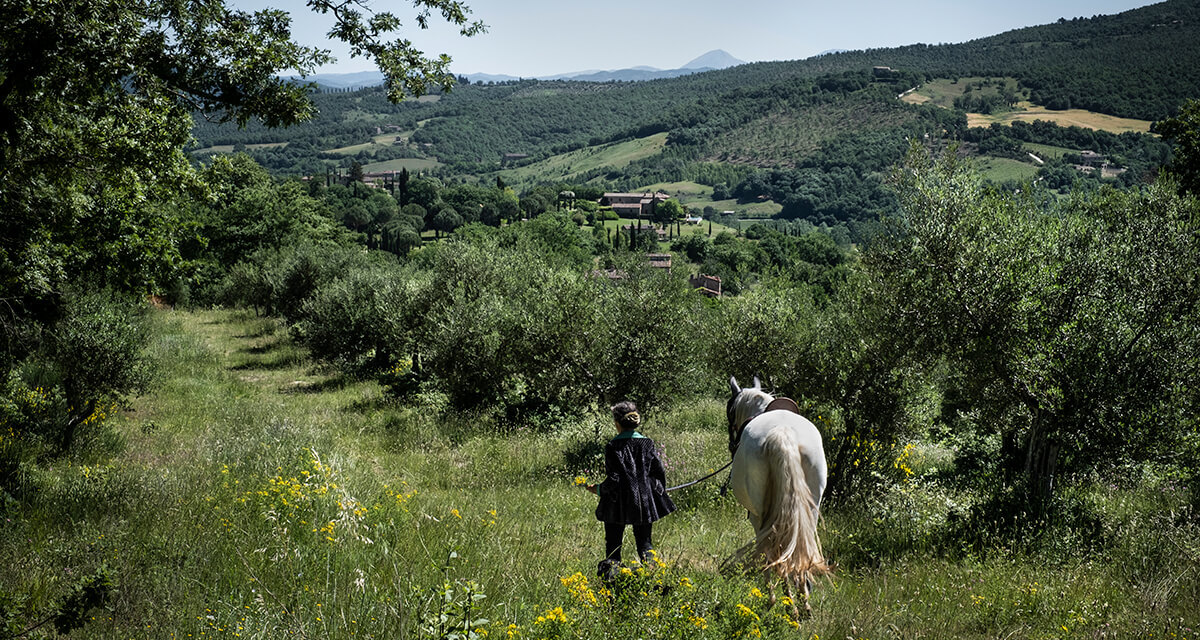 Donna Nencia Bolza has mapped the wealth of wild plants that grow naturally over the 1,500 hectares. This stunning illustrated record marks those places where a bountiful supply of lichen grow for bread making; camomile flowers for Reschio's Bathhouse rituals or nothing ruins covered in a mass of rambling ivy, knowing that during autumn, the black berries will provide the basic ingredient for a gentle green fabric dye.
It also details where a lull in foraging would benefit nature, a period of inactivity to ensure that nowhere is over-harvested to the detriment of the wild.
It comes as a shock, as barely have you left the shadow of the rampart walls, when Reschio's resident forager, Selvatica is calling out the properties of familiar looking foliage. She leads a group into nature's outdoor pharmacy, providing specialist body care and medicinal remedies, highlighting ingredients to give a wild twist to recipes or even suitable to craft decorative pieces.
For those that would like to indulge in foraging while on holiday in Italy, there are a number of options at Reschio - one walk focuses on the Estate's organic kitchen, herb and flower gardens, where Selvatica and her team work together with the soil to cultivate historic vegetable varieties for use in both Reschio restaurants.
Alternatively, a 1.5 hour walk in the meadows, hedgerows and ancient woods with our knowledgeable foraging guide serves as an introduction to recognise flavour, colour, leaf shapes, fruits, plants and trees that maybe familiar, but their extraordinary features might have been long forgotten.
Soon, identifying plants with incredible botanical properties that make up nature's living pharmacy, recognising the base for vibrant ink colours used since the Renaissance and selecting edible wild herbs and leaves for flavoursome ingredients, all comes naturally.
Returning for one of three workshops – First Aid, Ink Making or Cooking - to apply newly discovered knowledge for practical use and to learn how to best retain the potency as food as an extract, a macerated or an infused oil.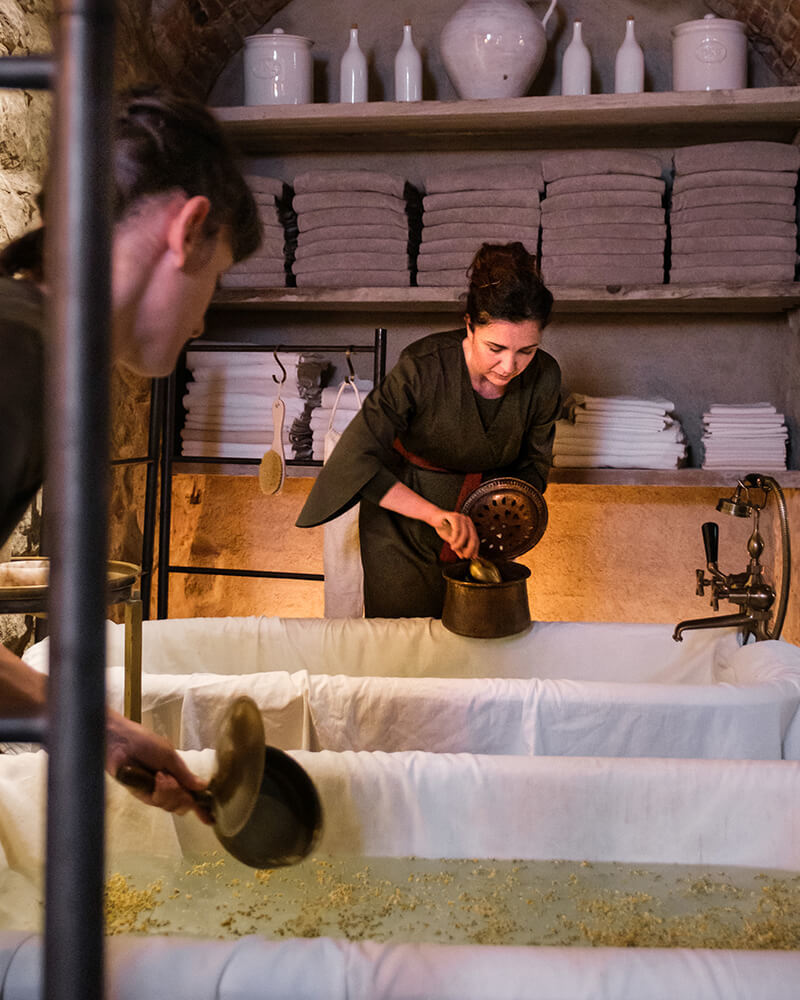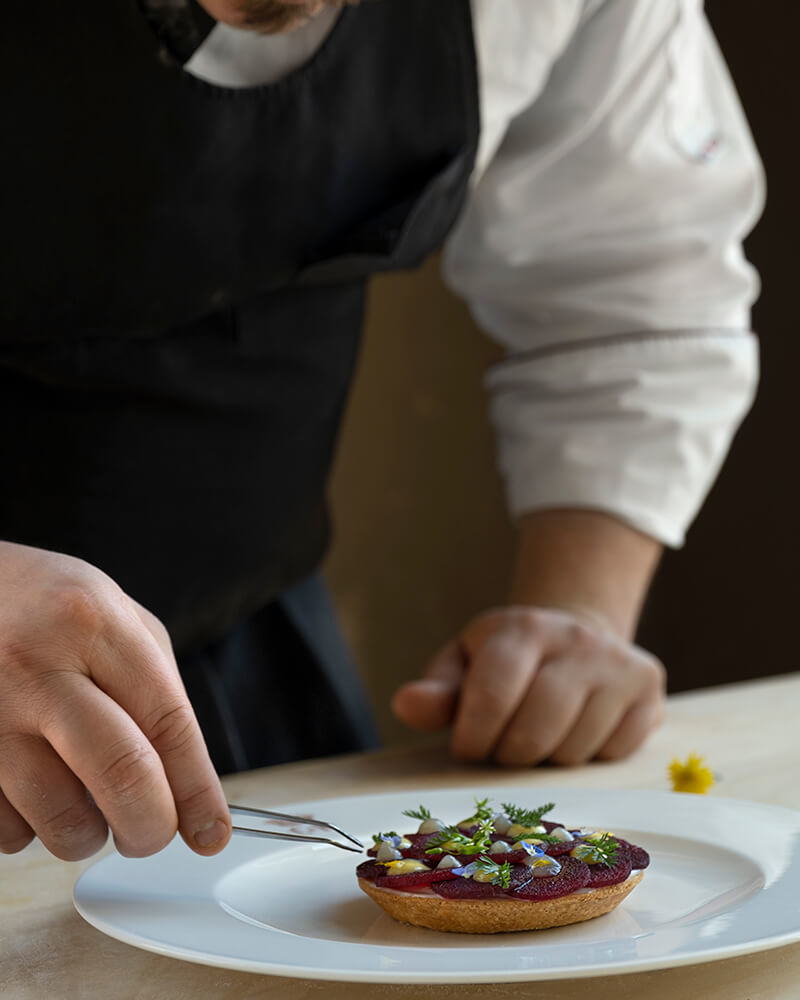 scroll
There is great variety of flora at Reschio, as over 70% of the Estate is covered in Mediterranean oak and sweet chestnut forests with porcini mushrooms, truffles and fields rich in junipers, sloes, wild fennel and many others. Birds seem to be in the know, as their winter habitat of hedgerows are full of red and black berries; rosehips too, are rich in vitamin C and A, essential to avoid tiredness, contribute to beneficial skin health and best consumed as a delicious tisane or flavoured oil.
In June, the tall St. John's Wort starts to flower in Reschio's olive groves. These brilliant yellow flowers are gathered on 24th June (St. John's Day) to prepare "Acqua di San Giovanni", literally St. John's Water. It is a busy day, as other wild flowers such as lavender, mugwort, mallow, mint and rosemary are harvested too and, as per ancient tradition, after sunset are left outside for the whole night to absorb the early morning dew to enrich their properties. This highly prized infusion is used for warming and purifying body treatments.
Some of the most interesting foraged plants used as ingredients include fat hen, ribwort plantain, garlic mustard, wild carrot, lichen, borage, purslane and bladder campion. Many return to the kitchen to be bottled and conserved to replenish Reschio's larder as a reminder of summer days. Others are dried in the sunshine and used in the Bathhouse as ancient remedies and nurturing treatments.
Come and learn Chef's favourite foraged dessert in a cooking class - an elegant tart of pine nuts and lichens with rosehip jam on a shortcrust pastry base with marinated red turnip juice and wild herbs. It looks as good as it tastes and the joy of gathering the ingredients from Reschio's outdoor larder, will remain as a sweet lingering memory.